Holsten Installed as President of Mission Aviation Fellowship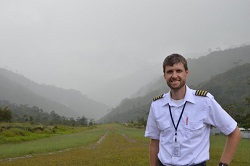 Photos are available here.

Contact: Chris Burgess,
Mission Aviation Fellowship,
208-498-0786,
208-391-9976 mobile,
cburgess@maf.org

NAMPA, Idaho, Sept. 14, 2018 /Standard Newswire/ -- David Holsten, a veteran missionary pilot-mechanic and former regional director of Mission Aviation Fellowship (MAF) in Indonesia, was inaugurated as the organization's ninth president and CEO in a Friday morning ceremony at MAF headquarters in Nampa, Idaho.

Photo: David Holsten at the Bime airstrip in Papua, Indonesia. Holsten was installed as Mission Aviation Fellowship's ninth president on Sept. 14. Photo courtesy of MAF.

MAF is a Christian non-profit ministry that uses airplanes and other technologies to share the gospel and make life better for those living in isolated parts of the world. Globally, MAF supports some 2,000 churches, mission groups, medical organizations, relief agencies, and development groups working in remote areas of Africa, Asia, Eurasia, Indonesia, and Latin America.

The inauguration service was conducted by Robert Swanson, chair of the MAF board of directors. Swanson is former managing shareholder of Sacramento law firm Boutin Jones, Inc. MAF board member Montie Ralstin, Jr., pastor of Discovery Church in Boise, officiated at a Communion ceremony during the inauguration.

"David brings a wealth of experience, knowledge, and understanding to the role of president and CEO," said Swanson. "MAF is a unique organization, and God has uniquely prepared him to lead this organization."

Holsten said he is humbled by the opportunity to step into this new role and looks forward to working alongside those who help MAF impact some of the world's most isolated people.

"MAF's ministry provides a very tangible picture of the gospel, in that we are offering something that is deeply needed to those who could never provide it for themselves," said Holsten. "We will continue to prioritize the centrality of Christ in MAF's ministry. It will only be through His blessing and sustaining grace that we are able to do what He has called us to do."

John Boyd, outgoing president and CEO, was recognized for his 20-plus years of service at MAF, including 10 years leading the organization. During Boyd's tenure, MAF replaced a significant number of its aircraft with turbine-engine Kodiaks, expanded its disaster response work, and began an expansion of its Nampa campus, all with the purpose of demonstrating and proclaiming the love of Jesus to isolated people.

"It has truly been an honor and a privilege to serve the Lord through this highly impactful ministry," said Boyd. "We've seen God use MAF for His purposes and His glory, and this next season in MAF's history will, I believe, be more impactful and far reaching in obedience to His Great Commission."

Following the inauguration, MAF dedicated its newest airplane—an amphibious Cessna Caravan, which will soon be serving isolated communities along the rivers of Papua, Indonesia.

"This aircraft will transport everything from school supplies to medicine to Bibles and solar panels," said Holsten. "It may carry medical personnel or government workers offering essential services, or evangelists and missionaries ministering to the spiritual needs of these remote communities. Many times it will be the only viable link to the outside world for critical medical flights, and will be the only amphibious airplane operating in all of Papua."

Holsten and his wife, Natalie, joined MAF in 2000. They were assigned to Indonesia, where Holsten served in a variety of roles, including pilot-mechanic, chief pilot, and program manager before becoming the regional director for Indonesia in 2014. In that position he oversaw MAF operations in Papua, Kalimantan, and Aceh, Indonesia. MAF has 150 staff and 15 airplanes at seven bases across the vast island nation.

Holsten grew up in Colorado and Georgia. He received a B.S. in Missionary Aviation Technology from Moody Aviation and holds a commercial pilot's license with multi-engine rating, as well as an airframe and power plant mechanic's license. He and his family relocated to Nampa in June 2018. An expanded bio is available at www.maf.org/holsten.

Mission Aviation Fellowship (www.maf.org) was founded in 1945 by WWII pilots who had a vision for how aviation could be used to spread the gospel. Since that time MAF has grown to a global family of organizations working in 37 countries across Africa, Asia, Eurasia, Indonesia, and Latin America. The ministry's recent work includes helping combat an Ebola outbreak in the Democratic Republic of the Congo (DRC), providing food and other necessities for thousands of refugees in the DRC, and supporting the work of missionaries, evangelists, and Bible translators around the world. MAF's U.S. headquarters is in Nampa, Idaho.