Korean Church Leaders Welcome News of US-North Korea Summit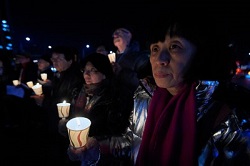 Contact: Media Office, World Council of Churches, +41 79 507 6363

GENEVE, March 9, 2018 /Standard Newswire/ -- On 9 March the National Council of Churches of Korea (NCCK) commented on the news that the Democratic People's Republic of Korea (DPRK), while agreeing to cease missile tests, has requested a summit meeting with the United States, and that President Trump has agreed to a meeting with the DPRK by May.
Photo: Candle-light vigil for peace in the Korean peninsula. Photo by Paul Jeffrey/WCC, December 2017
Rev. Haekjib Ra, chair of the NCCK Reconciliation and Reunification Committee, said the NCCK remains convinced that dialogue is the only way to resolve military conflict on the Korean Peninsula peacefully.
"Therefore, we request that the two countries, US and North Korea, use this summit meeting to find the correct path to reconciliation and peace," Ra commented. "Furthermore, we truly hope that the two sides will build trust with each other without threat of invasion and that this might become an opportunity to conclude a peace treaty that guarantees mutual peaceful coexistence."
WCC member churches in South Korea

Tweet