19-Year-Old Airman Earns CCAF Degree in 9 Months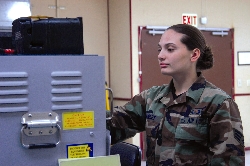 Contact: Carl Bergquist, Air University Public Affairs Office, 334-953-2014.
MAXWELL AIR FORCE BASE, Ala., Nov. 1 /Standard Newswire/ -- At 19 years old, Senior Airman Sharon Hawley is the youngest of more than 9,100 graduates earning their degrees in October at the Community College of the Air Force here.
Photo: Airman gets CCAF at 19
Senior Airman Sharon Howley, an integrated avionics mechanic, works with the T-38 flight director system test set. At age 19, Airman Howley is the youngest of more than 9,100 graduates earning their degrees in the October class of the Community College of the Air Force. She is also one of the youngest Airmen to earn a degree in the CCAF's 32-year history. Airman Howley is assigned to the 412th Maintenance Squadron at Edwards Air Force Base, Calif. (U.S. Air Force photo/Airman Stacy Garcia)
The integrated avionics mechanic, assigned to 412th Maintenance Squadron at Edwards Air Force Base, Calif., completed the prerequisites for her aviation technology degree in less than nine months.
"I began the course in March 2005 with credit for three classes from another school, took three classes at CCAF and CLEPed three classes," Airman Hawley said. "That allowed me to complete the course requirements by December 2005."
She said she was not familiar with the College Level Examination Program until she went to CCAF and found it very handy because it allowed her to finish her degree quickly.
Dr. James Larkin, CCAF director of institutional effectiveness, said Airman Hawley was not only the youngest graduate in her class, but is also one of the youngest graduates in the history of the college's more than 290,000 students.
"It's heartwarming to see someone her age take advantage of the opportunity to get their degree from CCAF," he said. "The school's average active duty graduate has been in the Air Force for 10.6 years when they get their degree, and the oldest graduate was 59 years old."
Airman Hawley works in an F-16A Fighting Falcon "back shop" avionics test station where she tests parts from F-16s and maintains the station. She said she joined the Air Force because she wanted to do something different.
"I went to a recruiter and six days later, I was on my way to basic training," the Airman said. "My job is very interesting and new for me. I never thought I would be doing anything like this."
Following approval of the concept in 1971 by then Air Force Chief of Staff, Gen. John Ryan, the Community College of the Air Force was established April 1, 1972. The school's vision is to be the foremost occupational education institution that prepares the world's best expeditionary-minded air, space and cyberspace enlisted leaders.
"CCAF was really helpful for me, and the people were very motivating," Airman Hawley said. "I was also able to earn my general education associates degree."
Students of CCAF complete about 1.6 million semester hours of course credit each year, and the school has a stake in the job knowledge and performance of every enlisted person in the Air Force. The average graduate is 33.5 years old, is a staff sergeant and majors in Aviation Technology Maintenance.
A two-year institution exclusively serving enlisted personnel, CCAF awards associate in applied science degrees after students successfully complete degree requirements. The Commission on Colleges of the Southern Association of Colleges and Schools accredits CCAF, through Air University, to award associates degrees.