All Children Made in God's Image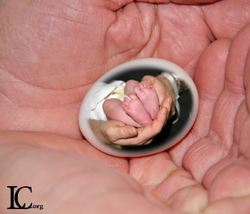 Contact: Mat Staver, Liberty Counsel, 407-875-1776, Liberty@LC.org

WASHINGTON, Feb. 6, 2019 /Standard Newswire/ -- In last night's State of the Union address, President Donald Trump called on Congress to defend the dignity and life of America's unborn children and pass legislation to prohibit late-term abortion.
In his strong pro-life message, President Trump said, "All children--born and unborn--are made in the holy image of God."

Trump was particularly referencing states that are increasing legislation efforts that would expand access to abortion in anticipation of the Supreme Court overturning Roe v. Wade soon.
The so-called "Reproductive Health Act," recently signed into law by New York Governor Andrew Cuomo, authorizes the murder of unborn babies up to the point of birth for any reason and revokes medical care for babies who are born alive after a failed abortion. In Virginia, the governor stated he would support executing a baby after birth. The Pain-Capable Unborn Child Protection Act was introduced in the U.S. House and bans late-term abortions nationwide after 20 weeks post-fertilization on the basis that the unborn child is capable of feeling pain. It would also require doctors to provide medical care to babies born alive during failed abortions. Sen. Patty Murray of Washington state blocked the unanimous passage of the bill.
Since taking office, President Trump has followed through on his promise to protect life. He recently signed a letter to Congress making clear that he will veto any legislation that weakens protections of life. Trump has reinstated and expanded the Mexico City Policy, preventing foreign aid from being used to support abortion, and proposed legislation to ensure taxpayer dollars from the Title X family planning program are not awarded to abortion providers.
"I commend President Trump for his powerful pro-life message last night which further supports his leadership in protecting the precious lives of unborn babies in America," said Mat Staver, Founder and Chairman of Liberty Counsel. "President Trump used his State of the Union address to highlight the gruesome agenda of murdering babies most recently displayed in New York and Virginia. I am deeply moved to hear him say that 'all children-born and unborn—are made in the holy image of God,'" said Staver.
Liberty Counsel is an international nonprofit, litigation, education, and policy organization dedicated to advancing religious freedom, the sanctity of life, and the family since 1989, by providing pro bono assistance and representation on these and related topics. Liberty Counsel provides broadcast quality TV interviews via Hi-Def Skype and LTN at no cost.