Torrei Hart, Lester Speight, and Ella Joyce Star in Antonio James' Resolution Song Movie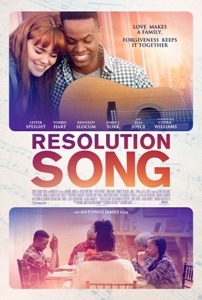 Contact: Antonio James, Director, Resolution Song, 470-230-8311,
Urbanstylz1@yahoo.com
SHERMAN OAKS, Calif., Feb. 6, 2018 /
Standard Newswire
/ -- Resolution Song, the highly anticipated second film by Urbanstylz will be released nationwide through Target, Wal-Mart, Amazon, and Best Buy stores February 6, 2018. Sony Home Pictures Entertainment affiliate Smith Global Media, distributor of Believe, will release the film early 2018 in time to position it as a Valentines Day memento.
The trailer can be seen here:
Trailer
The family-friendly film challenges a family's resolve after a tragic accident. "We were filming a movie about family battles and relationship dynamics while actively living these issues on set as a family," said Director Antonio James.
Resolution Song, a sensational religious film, follows Margaret (Torrei Hart) a submissive homemaker, as her family copes with the heartbreaking demise of her oldest child. Margaret struggles to keep her cheating husband (Lester Speight) and emotionally strained family, from losing faith.
The film features Kevin Hart's first-wife, Torrei Hart, in her film debut. The cast also includes Lester Speight (Transformers: Dark of the Moon), John J. York (General Hospital), Ella Joyce (Tyler Perry's Temptation) and introduces Kennedy Slocum (Witz Academy), and Cedric Williams as Levi.
To learn more, visit:
Website
Instagram: @theAntonioJames
ABOUT DIRECTOR ANTONIO JAMES
Director Antonio James serves as president of Urbanstylz— an African-American multimedia company that distributes, produces, and acquires independent films and music from around the world with autonomous relationships. Urbanstylz is appended to several media companies such as Smith Global Media and Rock Em Hard the label. Antonio James has released two feature films, including Resolution Song, which has won dozens of film festival awards.

ABOUT SMITH GLOBAL MEDIA
Smith Global Media (SGMedia) is an international distribution company that package, acquire, market, and distributes micro-targeted independent motion pictures, television programs and series, and other diverse forms entertainment content.

ABOUT SONY HOME PICTURES ENTERTAINMENT
Sony Pictures Home Entertainment (SPHE) is a Sony Pictures Entertainment (SPE) company. Sony Pictures Entertainment (SPE) is a subsidiary of Sony Entertainment Inc., a subsidiary of Tokyo-based Sony Corporation.
For Contact, Press Inquiries, or More Information
Antonio James
Director, Resolution Song
470.230.8311 (cell)
Urbanstylz1@yahoo.com
Tweet