Poland's Pres. to Open International Pro-Family Conference in Warsaw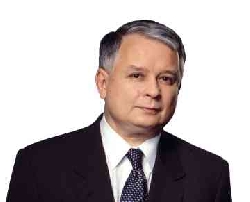 Contact: Larry Jacobs, 513-515-3685 cell, 815-964-5819, larry@worldcongress.org; Don Feder, dfeder@rcn.com
MEDIA ADVISORY, Mar. 15 /Standard Newswire/ -- Allan Carlson, founder and chairman of The World Congress of Families, announced today that Polish President Lech Kaczynski will give the opening address at World Congress of Families IV in Warsaw, May 11-13.
Photo: Polish President Lech Kaczynski
Poland's president has also agreed to serve as Honorary Patron of the Congress, which is expected to bring more than 3,500 pro-family leaders, activists, scholars and parliamentarians to Warsaw in May.
Carlson expressed his delight with Kaczynski's involvement. "We are honored to have President Kaczynski as the keynote speaker and Patron of the Congress," Carlson declared. "His well-known commitment to the family is very much in keeping with the theme of World Congress of Families IV – Beyond Demographic Winter: The Natural Family and the Springtime for Nations."
President Kaczynski has been critical of gay activism, recently noting that if the homosexual "approach to sexual life were to be promoted on a grand scale, the human race would disappear."
Kaczynski has also expressed concern about falling birthrates across Europe and voiced strong support for religious values and the natural family.
Kaczynski assumed the office of President on December 23, 2005. In the 1970s, he was active in the Anti-Communist Workers' Defense Committee, served as an advisor to the Solidarity movement, and later became an advisor to Poland's first democratic president, Lech Walesa. In 2001, Kaczynski became Minister of Justice and was elected mayor of Warsaw in 2002. President Kaczynski is one of the founders of the governing Law and Justice Party.
This year marks the 10th anniversary of World Congress of Families. Past Congresses have been held in Prague (1997), Geneva (1999) and Mexico City (2004). The Mexico City Congress featured remarks by Martha Sahagun de Fox, then First Lady of Mexico.
For more information on the World Congress of Families, visit the Congress website – www.worldcongress.pl or www.worldcongress.org.
To schedule an interview with Allan Carlson, founder of the World Congress of Families, contact Larry Jacobs, Vice President and Global Coordinator of the World Congress of Families, at 1-800-461-3113 or 815-964-5819.