Four-Time Grammy-Nominated Artists The Newsboys, Creators of Platinum-Certified Single 'God's Not Dead,' Join The Bridge Christian Radio for Bridgefest 2017 on June 23rd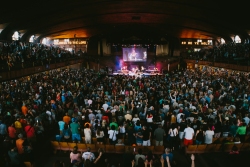 13th Annual Bridgefest Beach Festival Returns to Ocean Grove, NJ

Contact: Rob Taylor,
General Manager,
The Bridge
,
732-588-0861,
rob@bridgeradio.org
OLD BRIDGE, N.J., May 18, 2017 /
Standard Newswire
/ -- Four-time Grammy-nominated and four-time Dove-Award winning Christian music artists, The Newsboys, come to Ocean Grove, NJ for Bridgefest 2017 on Friday, June 23rd. Now in its 13th year, Bridgefest remains the largest and longest-running Christian summer festival of its kind at the Jersey Shore.
Bridgefest, the annual outreach event of The Bridge Christian Radio Network, consistently draws thousands to Ocean Grove each summer. "The Bridge has filled in the missing link between talk radio and Christian music, and between God's Word and our daily lives. We focus on the straightforward teaching of the Bible, featuring some of the best teachers and communicators in the country," said Lloyd Pulley, senior pastor of Calvary Chapel Old Bridge, co-founder and CEO of The Bridge, and a featured teacher on the station. "Great teachers, musicians, and listeners all come together at Bridgefest to celebrate our common delight in God and His Word."
Friday's events include teaching throughout the day, a youth rally, and culminates in the evening concert featuring a message by Pancho Juarez, a celebrated teacher on The Bridge, as well as music by The Newsboys. In addition to their Grammy nominations and Dove awards, The Newsboys are also two-time American Music Award nominees, with 33 #1 radio hits, and eight gold certifications. Their single, "God's Not Dead," is certified platinum and is featured in the film series by the same name. Duncan Philips, The Newsboys' drummer who is known for performing while his drum set spins in midair, says, "We played in Ocean Grove, NJ a couple times now and it is a beautiful spot! I can't wait to come play at Bridgefest. We are bringing all the bells and whistles! When we come to Ocean Grove we are going to have a blast!"
Bridgefest continues on Saturday June 24th on the beach in Ocean Grove, with activities for the entire family, including a surf clinic, face painting, and sports activities, as well as musical artists and vendors throughout the day. Bridgefest wraps up on Saturday evening with an ocean baptism, which has drawn thousands to be baptized in the ocean in previous years.
Advance tickets to the Friday evening event are $20 each, and a pass to both days is $25 through June 1st. Tickets can be ordered online at
bridgefest.org
or by calling 888-861-6100.
Tweet