First Ever Prime Time Christian Drama Series Set to Air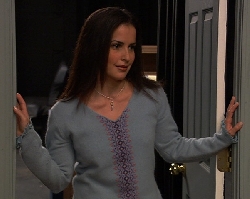 '7th Street Theater' is set to premiere on TBN starting Saturday night, March 3rd at 8pm pacific time (9pm mst, 10pm cst, 11pm est).
Contact: Dave Christiano, 7th Street Theater, 828-654-7455
MEDIA ADVISORY, Feb. 6 /Standard Newswire/ -- '7th Street Theater' will be the first ever prime time weekly Christian drama series to air on a national television network in the history of broadcasting.
Photo: Stacey J. Aswad headlines the premiere episode entitled, "The Commercial" click for hi-resolution version; additional photos available.
"I want to change the face of television," says Dave Christiano, producer of new dramatic TV series. "For decades, the major networks have had dramatic programs in prime time and the day has finally come for a distinctly Christian drama series to be there as well," he added.
'7th Street Theater' is launching with one of the world's largest television networks. "TBN is a worldwide stage and a great number of people will be able to receive the program," states Christiano. "The network currently reaches 92% of the homes in America."
The half-hour series will air weekly and consists of 24 already produced original episodes in the first season.
"There has never been a weekly drama series with continuing Christian characters for people to watch," said Christiano. "I hope that people will tune in and give us a chance to see what we've tried to do with this show."
'7th Street Theater' is about five Christian actors who perform a weekly stage show for their community. It features an extremely talented cast which includes Josh Gaffga, Hugh McLean, Johanna Jowett, Stacey J. Aswad, Shane Willimon, and Jack Kelly in the lead roles.
"These people may not be widely known among viewers at this time," said Christiano, "but after people watch a few episodes and get to know them, I think they'll really appreciate the talent and personalities of each. This is a really special cast."
Some of the episodes in the first season include a four part story entitled, "An Actor's Big Chance", a two part love story called "Shelley", and an episode named "Movie Star' where Kelly (Johanna Jowett) dreams she is the world's most famous actress. "It's an Emmy award winning performance by Johanna in that episode," states Christiano. "And I don't say that with any false hype."
The official TV series website is www.7thStreetTheater.com. It will also be available on DVD.
Dave Christiano has produced six films including the upcoming theatrical love story, "Me & You, Us, Forever", set for a February 15th, 2008 nationwide release. More at www.MeYouUsForever.com.