Immortality Explained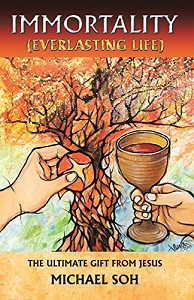 New Book Release


Contact: Michael Soh,
+60-12-201-1573
KAJANG, Malaysia, March 13, 2018 /
Standard Newswire
/ -- Christians believe the existence of the Tree of Life. It appeared right upfront in the Bible. They also believe that whoever eats from this tree will live forever (Genesis 3:22). Immortality is freely given by God from the beginning of mankind. Thus it follows that if God can send Jesus, the most precious gift from heaven to die for us, surely He will not hold back the tree of life (immortality) from us. This is clear when we read Roman 8:32: "He that spared not his own Son, but delivered him up for us all, how shall he not with him also freely give us all things?"
The problem that we face today is that we ask not. We do not ask for immortality as we are brainwashed not to do so. We dare not and would not because it is generally accepted that it is not God's will to give us immortality. In addition we are taught everyday by our parents and teachers that death is unavoidable. And everywhere we go, the media plays to the same tune, reinforcing what we are taught. What we are taught are consistent with what we see personally. It is a grim picture of many people dying helplessly and at a young age. But all these are far from the truth. The book, Immortality Explained, will unlock the true heart of our Heavenly Father who wants to bless us with life abundantly. When the reader reaches the end of this book, he or she will understand that an abundant life can only equate to immortality. Anything short of this will render immortality as more precious than Jesus. Our Heavenly Father holding dearly to immortality over Jesus would be a gross misrepresentation of His character. Reading this book will show you that He is the same yesterday, today and tomorrow. It is His will to give us the Tree of Life yesterday, today and tomorrow.
This book is filled with road maps on how you can discover the Tree of Life easily and effortlessly. No more false expectation. No more qualification to get your immortality other than to believe in Jesus. See the beauty in how our Heavenly Father package the Tree of Life together with Jesus and had Him personally send to us. We can never miss out on this gift anymore. There are no more excuses for not knowing that we have access to the Tree of Life. We cannot choose not to take delivery of this ultimate gift of Jesus. He fully paid for this gift with His own blood. The ball is on your court. Decide to be an immortal by committing to Jesus. Do Him proud by living an immortal life and wait for His second coming.
The book is available on Amazon here:
www.amazon.com/Immortality-Everlasting-Life-Ultimate-Christ-ebook/dp/B079SWD634/ref=sr_1_3?ie=UTF8&qid=1520922234&sr=8-3&keywords=immortality+everlasting+life
.
Tweet