Powerful Stories from Global Authorities that are Guaranteed to Equip Anyone for Real Life Breakthroughs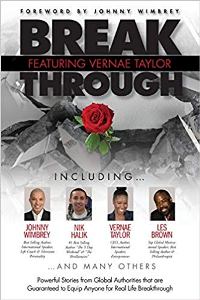 NEWS PROVIDED BY
June 10, 2019
MEDIA ADVISORY, June 10, 2019 /
Standard Newswire
/ -- There are times in our lives when forces collide to produce life-changing events. Global authorities including Johnny Wimbrey
www.johnnywimbrey.com
; Les Brown
www.lesbrown.com
; and Nik Halik
www.nikhalik.com
, along with authors from around the world, have come together to share their inspirational stories. From family, life obstacles, varied career industries, hardships and the rise to success, these breakthrough experiences are sure to give you honesty and wisdom that will inspire you to greatness. Vernae speaks from a heartfelt, yet raw place in illustrating her childhood, tested relationships, the complexity of family, self-esteem and development. Begin the journey to unlock the greatness that's within us all.
Quotes:
"I found the chapter, Unlock your Greatness to be insightful, relatable and inspiring. The entire book compels you to dig deeper within yourself to identify your personal challenges and how to overcome them."-- Khadijah Green, CMO of Somerset County


"You don't look like what you've been through."-- Kearni N. Warren, Author of Caregiving for a Warrior
Product details (from AMAZON):
Title: Break Through Featuring Vernae Taylor: Powerful Stories from Global Authorities that are Guaranteed to Equip Anyone for Real Life Breakthroughs
Paperback: 258 pages
Publisher: Wimbrey Training Systems (February 20, 2019)
Language: English
ISBN-10: 1938620526
ISBN-13: 978-1938620522
About the Author
Vernae Taylor is a Performance Artist and Entrepreneur on a mission to help people achieve greatness and live everyday with purpose. She is a proud alumna of Rutgers University and founder of Triple Threat Vision, an events company, in which she organized and hosted a Sister-to-Sister Talk Back; the Family Affair: "A Collective Arts Experience," creating a platform for entrepreneurs and talents within a family friendly atmosphere. Vernae has contributed to the following publications: The Actor's Side Hustle Handbook and Potpourri From The Heart. But she is especially proud to be a co-author in the
Break Through
, serving as a bold introduction to her autobiography. You can catch her on stage with "Balance of Love: A Musical Journey" at Harrah's in Atlantic City on June 22 and "Another Chance a Gospel Musical Drama" in Hamilton, NJ Aug 17-Oct 6. Follow her on Instagram @vernaetaylor and learn more at
www.vernae.com
.
SOURCE Vernae Taylor
Related Links