8th Circuit to Hear Appeal of District Court Judge's Ruling to Shut Down Effective Faith-Based Prisoner Rehabilitation Program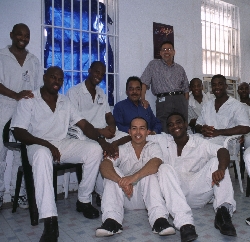 Retired U.S. Supreme Court Justice Sandra Day O'Connor on Panel to Determine if Ruling against Faith-Based Program that Reduces Recidivism, Enhances Public Safety, and Cuts Corrections Costs Will Stand
Contact: Michelle Farmer or Regina Lupoli, 770-813-0000, 770-757-4900 cell,
mfarmer@DeMossGroup.com; www.DeMossNewsPond.com/IFI
WASHINGTON, Feb. 6 /Standard Newswire/ -- The 8th Circuit Court of Appeals in St. Louis will hear oral arguments on Tuesday, Feb. 13, in an appeal of a federal judge's ruling against Prison Fellowship, the InnerChange Freedom Initiative (IFI), and the State of Iowa. Last June, in a lawsuit brought by Americans United for the Separation of Church and State, Judge Robert Pratt ruled that the IFI program in Iowa is unconstitutional.
Photo: On Feb. 13, the Eighth Circuit Court of Appeals will hear an appeal of a federal judge's ruling that would shut down the InnerChange Freedom Initiative Iowa, an effective faith-based pre-release program for prisoner; hi-resolution version
In the ruling, Judge Pratt found that IFI, a comprehensive, faith-based pre-release program for prisoners that is affiliated with Prison Fellowship, was "pervasively sectarian" and thus violated the establishment clause of the U.S. Constitution. He ordered that the Iowa IFI program be shut down and that Prison Fellowship and IFI repay the State of Iowa the $1.5 million paid to IFI under a contract for services over the past six years.
"It is troubling that at a time when the FBI has just reported an increase in violent crime for the second year in a row--and when two out of every three inmates are re-arrested within three years of their release--there are those who would try to shut down a voluntary program that transforms lives and helps reverse the destructive cycle of crime," said Prison Fellowship President Mark Earley. "The IFI program has continued the historical tradition, dating back to the founding of our nation, of people of faith helping prisoners become productive members of our society."
The appeal, set for 9 a.m. at the Thomas F. Eagleton Courthouse, 111 South 10th Street in St. Louis, will be heard by a three-judge panel that includes retired U.S. Supreme Court Justice Sandra Day O'Connor, Judge Roger L. Wollman, and Judge Duane Benton. The appeal is being watched very closely by legal scholars and others who consider it a landmark case regarding the viability of the concept of faith-based initiatives. Barry Lynn of Americans United hailed the June ruling as "a body blow to so-called faith-based initiatives."
For more than a decade, the InnerChange Freedom Initiative has produced dramatic results in changing the lives of hardened criminals and stopping the revolving door of crime. The program, which operates in Texas, Iowa, Minnesota, Kansas, and Arkansas, and is set to launch next month in Missouri, presents viable solutions to challenges that state and local governments have struggled with for decades.
MEDIA NOTE: Prison Fellowship President Mark Earley and lead counsel Anthony Picarello of the Becket Fund for Religious Liberty will be available to brief media outside the courtroom immediately after the Feb. 13 appeal hearing. To schedule an advance interview with Mark Earley, Anthony Picarello, or an IFI graduate, or for more information including broadcast-quality b-roll, a comprehensive media kit, and high-resolution, downloadable photos, visit www.DeMossNewsPond.com/IFI or contact Michelle Farmer (770) 813-0000 / (770) 757-4900 cell.