Hygiene and Sanitation Improving in Madagascar's Flood-Affected IDP Camps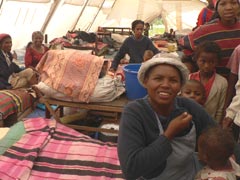 Contact: David Sauter, Madagascar, Desk Officer (French, English), Medair, +41 (0)21 694 35 35, david.sauter@medair.org
MADAGASCAR, Mar. 16 /Standard Newswire/ -- For the past three months, a relentless series of tropical storms and cyclones have battered the island of Madagascar with strong winds and heavy rainfall. The resultant flooding has been significant, forcing thousands of people to flee to safer areas, and causing massive crop damage.
In the capital city of Antananarivo (Tana), an estimated 20,000 people have been displaced. They are living in 46 camps that have been set up amid the rice paddies in the lower parts of the city. These IDPs (Internally Displaced Persons) are some of the poorest people in the region, with this crisis making them even more vulnerable.
The displacement began in the middle of January, but it escalated rapidly as the floodwaters kept rising. The government was originally handling the crisis themselves, but by 20 February, it had declared a national state of emergency. The Malagasy government appealed to the international community for help, but received only $1 million so far to cope with its many natural disasters this year. This prompted UNICEF's country representative Bruno Maes to call Madagascar a "classic silent emergency."
Medair responded quickly to the government's request for help, and discovered that hygiene and sanitation conditions were very poor in the camps. Some had no latrines, while the latrines that did exist were generally in terrible shape, having neither been cleaned nor emptied. In addition, distributions had been poorly organised, with only a few items made available to selected recipients.
The Medair team began by installing temporary latrines into camps that were lacking them. It then organised the cleaning and emptying of all the latrines in the IDP camps.
"Our camp had been without a latrine for almost two months," said 65-year-old Mr. Solofo. "It was hard to live in such conditions."
The Medair team also installed hand-washing facilities in most of the camps, and provided a general distribution of soap, buckets, water purification solutions, and jerricans for transporting water.
"This distribution was really good," said a pregnant mother named Fara. "Before this, people gave numbers to each family, then they would draw or pick a number. My family was never lucky. Now, thanks to Medair, we all receive exactly the same things."
Medair also trained 20 volunteers from the Malagasy Red Cross to conduct hygiene promotion within the camps. They reached 20,000 people with basic hygiene advice, like the importance of hand-washing after latrine usage.
Medair's one-month-long emergency response project is being funded by UNICEF and is also dependent upon private donations.
However, cyclones continue to hit Madagascar, with cyclone Indlala striking the island on 15 March. As a result, the emergency response phase may need to last longer than originally planned. A second emergency intervention may also be necessary in Maroantsetra, depending on the damage caused by Indlala.
In the five years Medair has been in Madagascar, it has specialised in improving water and sanitation in rural areas. Its expertise is particularly beneficial when dealing with the ongoing threats of cyclone emergencies: assisting with mitigation (how to prepare for and protect against cyclone damage), emergency response (how to re-establish access to clean water), and recovery (how to improve the situation in the rebuilding phase after a cyclone has hit).