E.W. Jackson Releases Video Urging Virginians to Vote Republican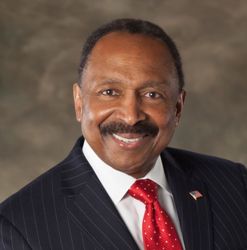 NEWS PROVIDED BY
Nov. 4, 2019
NORFOLK, Va., Nov. 4, 2019 /Standard Newswire/ -- Prominent Virginia politico - Bishop E.W. Jackson (photo) - released a video (https://youtu.be/PjYiS6t4Z_Y) in the final days of Virginia State elections urging Virginians to vote Republican. Jackson says, "The state that gave us George Washington, Thomas Jefferson, Patrick Henry and so many other great Patriots cannot be turned over to a Democrat Party of leftwing demagogues who have no respect for the Declaration, the Constitution or the Founding Fathers who gave us our Republic."
Jackson accuses Ralph Northam of being a closet racist. "This man, like others in his party is always accusing conservatives of being racist. Yet he wore black face or KKK garb or both, and thought it was funny." The Governor was Bishop Jackson's opponent in the Lieutenant Governor's election of 2013. At the conclusion of a televised debate, Jackson reached out to shake Northam's hand and was refused. He tapped Northam on the arm and Northam still refused. That video has been used by Republicans to highlight the racial hypocrisy of Ralph Northam. (https://youtu.be/QqO4u0yrkjA)
"The last thing we need," says Jackson, "is a legislature that is going to rubber stamp a Governor who is not only a proven hypocrite and racist, but also supports infanticide," says the Bishop. He is referring to Northam's support for a New York style law that would allow babies to die after they are born if abortion was the original intent.
Northam has also angered Second Amendment supporters with indications that a Virginia Democrat legislature would pass red flag laws and seek to outlaw and confiscate guns deemed "assault weapons." Says Jackson, "These anti-Second Amendment policies are guaranteed if Democrats take over the legislature. In fact, they will remake the great Commonwealth of Virginia in the radical leftwing image of California. People of common sense, whether Democrat, Republican or independent need to vote Republican in order to save our Commonwealth from the far left demagogues who would turn it into a disaster."
SOURCE Bishop E.W. Jackson
CONTACT: 540-351-4200, media@ewjackson.com
Related Links