Tsunami Survivors Flee Conflict in Sri Lanka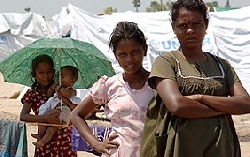 Contact: Louise Hill, Communications Officer, Merlin, +44 (0)20 7014 1703, +44 (0) 20 7014 1600
LONDON, Mar. 13 /Standard Newswire/ -- Thousands of survivors of the 2004 tsunami in Sri Lanka are being made homeless again as a result of the worsening conflict between government forces and Tamil separatists. As the crisis escalates, Merlin is warning of the potential for disease outbreaks at the overcrowded camps to which displaced families are fleeing.
Photo: Merlin is providing aid for more than 20,000 people made homeless by conflict in eastern Sri Lanka
Over the past six months, 80,000 people have fled to camps in Batticaloa district in eastern Sri Lanka and in the past week they have been joined by up to 40,000 more. "Almost every night we can hear the sound of heavy shelling, and each day more families arrive carrying what they have salvaged from their homes," said Kolitha Wickramage, who heads up Merlin's medical team working in the area. "At least 5000 people arrived here on one day."
Merlin is providing medical aid to around 20,000 people at 10 different camps in Batticaloa. "We're running mobile clinics and have set up a surveillance system to control common killers like diarrhoea and hepatitis. We're also providing soap and digging latrines to help people stay clean in the crowded conditions," said Wickramage. "So far we haven't seen major outbreaks of disease, but as more families flee here and the summer heat builds up we're worried that things could get out of control."
Many of the families encountered by Merlin have lost their homes twice in as many years: first in the tsunami disaster and then more recently by offensives against Tamil separatists. "One family I met this week lost everything they had in the tsunami; then, three months ago, just when they had finished building their new home, it took a direct hit from a shell," explained Wickramage. "Along with others from their village, the family fled in the middle of the night, crossing thick jungle and deep rivers. They described how several children drowned and had to be buried under leaves."
Merlin has been working in Sri Lanka since 2004, helping to rebuild hospitals and health centres that were destroyed by the tsunami. The disaster claimed the lives of 35,000 people and left half a million homeless. In the past year, several reconstruction projects initiated by Merlin, such as a hospital in Vakarai, have had to be abandoned because the worsening conflict has made it impossible for its staff to reach some districts.
"There's nothing to suggest that the number of people fleeing from the fighting is going to lessen," said Michelle Brown, Merlin's Programme Director in Sri Lanka. "The biggest tragedy is that thousands of people have now had their lives wrecked by both the tsunami and the war. Many have endured long and dangerous journeys to reach safety, but as the camps get more crowded the risk of disease is going to increase. We're taking measures to ensure they get every support possible."