General Pace Expressed the Views of a Majority of Americans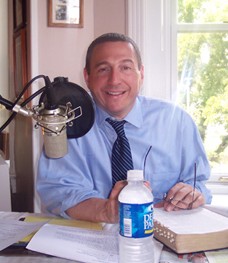 Contact: National Clergy Council, 202-546-8329, extension 106
WASHINGTON, Mar. 13 /Standard Newswire/ -- The National Clergy Council, representing more than 5000 church leaders and 30,000 lay associates from Catholic, Evangelical, Orthodox and Protestant traditions located throughout the 50 states, will deliver a letter today to President Bush expressing unequivocal support for Chairman of the Joint Chiefs of Staff General Peter Pace.
Photo: Reverend Rob Schenck on Faith and Action Radio
National Clergy Council president the Reverend Rob Schenck stated, "General Pace is an outstanding American, an extraordinary leader and a distinguished military chief. In his comments about homosexual behavior, General Pace expressed the views of a majority of Americans and said nothing untoward or in conflict with his duties, military regulations or the laws of this country. We will ask President Bush to support General Pace's right to stand by his convictions as he enforces the military code of conduct."
Mr. Schenck is also chairman of the Committee on Church and Society for the Evangelical Church Alliance, America's oldest association of Evangelical clergy. He is available for further comment at 202-546-8329, extension 106.