Mike Rowe's Popular TV Series 'Somebody's Gotta Do It' to Join TBN Lineup Starting December 2nd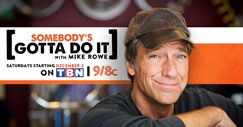 Contact: Paige Collins, 615-934-4162, paige@iconmediagroup.com
LOS ANGELES, Nov. 20, 2017 /
Standard Newswire
/ -- TBN announces it will repurpose content from Mike Rowe's popular TV show, "Somebody's Gotta Do It", to air on the network beginning Saturday, December 2nd. The network will feature 13 half-hour episodes in its first season, with plans for more. "Somebody's Gotta Do It" will air at 9 p.m. ET following "Huckabee."
The show, which originally aired on CNN, features Rowe as he travels the country profiling interesting folks "on a mission"—from scientists to do-gooders, Rowe highlights people who, he says, "do what they do because of a weird mix of love, compulsion, obsession, dedication – whatever it is." To view a trailer for the show visit:
youtu.be/qbjjqK6eBTc
.
"I'm really excited that Somebody's Gotta Do It has found a new home. The people we feature on this show are exactly what the country needs right now–real and regular folks with a genuine sense of humor, a genuine passion for what they do, and a genuine desire to share that passion with America," said Rowe. "There's just no way you can watch this show and not feel better about the species, and I know the TBN audience will love the people who 'gotta do it.'"
The move is one of many recent decisions by TBN's chairman Matt Crouch to bring content to the network that people of faith can enjoy. To find TBN on local listings visit:
www.tbn.org/watch/channel-finder
.
About Mike Rowe: From the Baltimore Opera to QVC shopping channel, Executive Producer and TV Host Mike Rowe has had hundreds of jobs and relished his role as a chronic freelancer. He's best known as the "dirtiest man on TV," a title he earned on the hit TV series "Dirty Jobs." He has narrated hundreds of documentaries about space, nature, dinosaurs, and how stuff works. He has also forged a handful of partnerships with iconic brands and filmed a boatload of Ford commercials. Most recently, Mike is in search of remarkable people making a difference in their communities on Facebook's groundbreaking series "Returning the Favor." He also launched "The Way I Heard It," a weekly five-minute podcast of short mysteries for the curious mind with a short attention span. In addition, Mike runs the mikeroweWORKS Foundation, a 501(c)(3) public charity that provides scholarships to people getting trained for skilled jobs that are in demand and has granted, or helped facilitate the granting of, more than $5 million in technical and vocational education for trade schools across the country. In his spare time, Mike keeps a lively conversation with more than 5 million Facebook friends, where he talks about everything from the musings of his persnickety terrier named Freddy to the merits and pitfalls of blind patriotism.
About the Trinity Broadcasting Network:
Trinity Broadcasting Network is the world's largest and most watched faith-and-family broadcaster, reaching over 175 nations across the earth with inspirational and entertaining programming 24 hours a day in 14 languages and on 30 global networks. As the world's most influential non-profit religious broadcaster, TBN has led the way in expanding the impact of faith-based television across the earth through the creation of innovative content designed to reach every viewer demographic with the life-changing message of hope and grace. To find out more about the TBN Networks, visit us at
tbn.org
.
Media Contact:
Paige Collins
paige@iconmediagroup.com
615-934-4162