American Red Cross Helps Pakistan Quake Survivors Brave Winter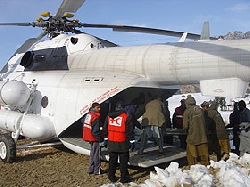 Contact: Carrie A. Martin, 202-303-4459, martinc@usa.redcross.org; the following by Shilpika Das is a Special to RedCross.org
WASHINGTON, Mar. 15 /Standard Newswire/ -- The muted cackle of a slowly dying fire melts into a hushed silence as entire families sit huddled inside their frail, makeshift shelters. The temperature outside drops below minus four degrees Fahrenheit, even as the cold rain pelts the solid, frozen ground. A low drone signals the arrival of a helicopter, bringing with it comfort and hope for the hundreds awaiting its arrival.
Photo: Red Cross workers unload additional relief supplies, which will be distributed immediately to residents in remote mountainous regions. Nathan Cooper/American Red Cross.
These helicopters bring relief items, supplied by the American Red Cross, for the survivors of the 2005 earthquake who lost their homes in the disaster. The quake, which hit Pakistan on October 8, 2005, claimed more than 73,000 lives and destroyed the homes of 3.5 million people. Fourteen months later, 460,000 people are still without adequate shelter.
According to Red Cross officials, an estimated 32,000 people are still living in 45 relief camps in Pakistan-administered Kashmir and the North West Frontier Province (NWFP). The American Red Cross is working with the Pakistan Red Crescent Society (PRCS) and the International Federation of Red Cross and Red Crescent Societies (International Federation) to help local residents prepare for the winter. The International Federation distributed packages of Corrugated Galvanized Iron (CGI) sheets – which serve as the roof of temporary shelters – and shelter repair kits to more than 3,000 families. Since the earthquake in 2005, the PRCS and the International Federation have assisted more than 1.1 million people.
In a boost to the International Federation's winter preparedness project, the American Red Cross recently contributed US $1.5 million, including household repair kits, relief supplies and roofing materials. Relief items included tarpaulins, quilts, shawls, hygiene kits and kitchen sets. The American Red Cross also sent four emergency delegates and one long-term delegate to support its relief efforts in Pakistan. "Our target is to reach 13,500 families in the NWFP and Pakistan-administered Kashmir," explained Colin Chaperon, American Red Cross relief delegate. "Our primary goal is to identify, asses and distribute relief supplies to the most vulnerable communities."
But with weather conditions steadily deteriorating, distribution teams found it increasingly difficult to transport supplies to remote areas. In regions that were inaccessible by road, helicopters – provided by the United Nations Humanitarian Air Service – airlifted supplies from Muzaffarbad and transported them. "With no road access to most areas, delivering relief packages was sometimes impossible," said Chaperon, after returning from a four-hour climb to monitor distributions. "The harsh weather and rugged physical terrain made it extremely challenging to reach remote villages."
Once the supplies were delivered, Red Cross workers distributed them in villages located in remote mountainous regions. In more accessible areas, however, villagers traveled to Red Cross distribution centers to collect their relief kits. Red Cross and Red Crescent distributions for winter preparedness began around the quake-ravaged towns of Allai valley, Balakot, Batagram and Chakooti in January this year, and continued through the winter months. Since the earthquake struck in October 2005, the American Red Cross has provided $10.7 million for emergency relief and has committed $3.3 million for long-term community-based health programs.
"The Red Cross gave us [roofing materials] to build shelters. Before that, we lived out in the open," said a local resident. "We lost everything in the earthquake."
According to weather bureaus, the winter this year was severe. "The nights are the most difficult," explained another resident. "We huddle together inside tents – sometimes more than 10 people to a tent – with no beds."
The extreme cold is also affecting the health of these communities, with several cases of respiratory infections being reported. "Many villagers are suffering from these infections, with children being the easiest target," said Augustine Gill, an American Red Cross delegate working on long-term maternal and child health programs in Pakistan. "Though they are being treated, these communities need to be protected against the cold," explained Gill, who is also building capacity among government health workers and communities, and working to improve awareness among families.
The American Red Cross recognizes this need, and is working to improve shelters and health conditions in these quake-ravaged communities – helping them inch their way back to normalcy.
As part of the world's largest humanitarian network, the American Red Cross alleviates the suffering of victims of war, disaster and other international crises, and works with other Red Cross and Red Crescent societies to improve chronic, life-threatening conditions in developing nations. We reconnect families separated by emergencies and educate the American public about international humanitarian law. This assistance is made possible through the generosity of the American public.