Co-founder of Kenya's Largest Orphanage and School Campus Dies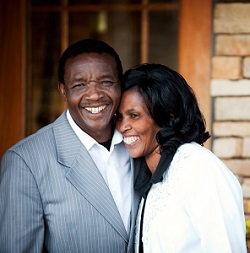 Contact: Sarah Larsen, International Projects Coordinator,
Heroes of the Nation
, 719-649-9696,
sarah@htn.org
NYAHURURU, Kenya, Nov. 8, 2018 /
Standard Newswire
/ -- Weston Gitonga, one of East Africa's most dynamic and beloved spiritual leaders, has passed away at age sixty-one. Weston was man of great wisdom and a father to thousands of leaders all over Africa. He was bishop over many churches and co-founder (with Harold Eberle) of twelve Destiny Bible Colleges throughout East Africa. Weston was also co-founder with his beloved wife Violet and friend Andrew Sievright of Heroes of the Nation. HTN is a campus where 485 orphaned and vulnerable children are given love, an excellent education and the vision to make a difference. To date, 1,300 children are either in, or have graduated from, this transformational organization. Children at HTN are raised to be heroes for their nation. Only a true hero could lead a movement like this and Weston was, by everyone's definition, a HERO.
Weston Gitonga Kareri spent his last days at a Nakuru Hospital with his wife, children and grandchildren by his side. The Bishop's organs began shutting down during the week prior to his death, beginning with his heart and kidneys. He had time with family and calls and emails from friends all around the globe. When he had said his final goodbyes, Weston went peacefully to sleep and did not awake.
Weston was known for his hearty laugh and a deep inner light that guided him. He was truly a friend of God and to those he served. He was also known by many throughout Laikipia County for his leadership and dedication to the betterment of its communities, as he fought for real change and the needs of ordinary people.
Weston served his country by running for political positions in both the Kenyan senate and parliament, as he wanted to see Godly men and women serve inside of government and create real change that would do more to bless the Kenyan people.
The Bishop was a great man of God. He sacrificed himself for others, traveling all over East Africa to comfort, enlighten, impart and restore. Weston Gitonga was a true Apostle of Africa, and leaves an immense amount of fruit that will bring honor to God's name forever.
The Bishop is survived by his wife Violet Waithera Gitonga, his son Sam West Kareri his daughter Joy, his granddaughter Samera, and his grandsons Ty and West.
A Funeral service and burial will take place in Nyahururu, Kenya on Saturday, November 10th. All who knew the Bishop are welcome to attend the service in the Nyahururu stadium, beginning at 10AM. A private burial will follow for family and very close friends.
Anyone wanting to watch Weston's stadium funeral service can watch it on HTN's Youtube livestream:
https://www.youtube.com/watch?v=OqRj9skxIwk
www.htn.org