Institute Hosts President of Ethiopia for Intercultural, Inter-Religious Dialogue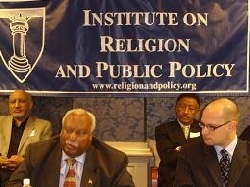 "Engagement is the only viable, effective, and meaningful means of social and political advancement." -- Institute President Joseph K. Grieboski
Contact: Kevin Fahey, Institute on Religion and Public Policy, 202-835-8760, Fahey@religionandpolicy.org
WASHINGTON, Mar. 16 /Standard Newswire/ -- The Institute on Religion and Public Policy on Tuesday hosted a private dialogue with His Excellency Girma Wolde-Giorgis, President of Ethiopia. High-level representatives of over 40 religious traditions and non-governmental organizations were among the invited guests who met with President Girma in a small roundtable setting to discuss issues related to human rights, religious freedom, counter-terrorism, and Ethiopia's recent military activity in Somalia.
"We are honored and pleased to be able to host President Girma in the first of many such private dialogues with Heads of State and Heads of Government on fundamental rights issues," commented Institute President Joseph K. Grieboski. "Ethiopia has a long history of religious respect and accord, and its recent increased efforts to battle extremism and terrorism place Ethiopia in a unique position to speak on issues of inter-religious dialogue and fundamental rights."
Elected to his current position in 2001, President Girma has an extensive distinguished record in the Ethiopian political system, including years of service as a parliamentarian and speaker of parliament.
"In order for any progress to be made on issues of religious freedom and other fundamental rights, we must engage with leaders at all levels," Mr. Grieboski continued. "Engagement is the only viable, effective, and meaningful means of social and political advancement. President Girma very straightforwardly and honestly responded to questions about Ethiopia's military actions in Somalia, relationships between Muslims and Christians in Ethiopia, the government's role in religious exercise and organization in Ethiopia and numerous other sensitive topics."
President Girma has been a champion for environmental and humanitarian causes. He has a substantial track-record of working directly for or on behalf of the Red Cross. In 1991, His Excellency founded an environmental protection association, Lem Ethiopia, of which he currently serves as Vice President of the Board. His Excellency received the UNAIDS Medal in 2004 for his relentless work in combating AIDS in Ethiopia and Africa.
"Engaging in rhetoric at receptions and 'lobbing firebombs' from Washington will never solve the problems the world faces each day," Mr. Grieboski continued. "President Girma has initiated with the Institute a serious and significant dialogue to address issues of poverty, development, AIDS, environment, healthcare, terrorism, and numerous other arenas which affect the fundamental rights and freedoms of people each and every day. The Institute on Religion and Public Policy is honored to have been the partner to execute such an effort and looks forward to advancing human society and the fight for fundamental rights in such spirit and form of respect, understanding, cooperation, and effectiveness."