Holiday Must-Have - The Gospel of Santa Claus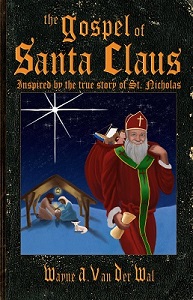 Contact: Wayne Van Der Wal,
775-338-4300
RENO, Nev., Nov. 2, 2018 /
Standard Newswire
/ -- It's Christmas Eve, and a troubled Joe and Mary and their three children are ​taking the train to visit family...​ ​
Suddenly, a bearded stranger with a twinkle in his eye takes a seat and begins spinning a provocative tale that intrigues, delights, and inspires. Masterfully weaving past and present through story, lessons, and devotions, The Gospel of Santa Claus follows the incredible story of Saint Nicholas.
A meaningful, touching story to be shared with the entire family, Wayne Van Der Wal's powerful historical novel will raise important questions, ignite hope, and reaffirm your faith in God.
TheGospelofSantaClaus.com