PeachTea Party Coalition Unveils Breakthrough Voter Website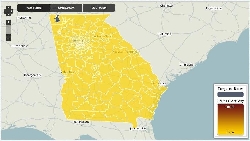 Contact: Terri Green, 404-538-4826
WOODSTOCK, Georgia, July 16, 2012 /
Standard Newswire
/ -- Which candidates are true fiscal and social conservatives? A coalition of prominent social and fiscal conservative organizations today announced a ground-breaking website that makes it easy for voters to identify those candidates in the upcoming July 31st primary.
"Life and Liberty Tracker is the tool we've needed to help us hold legislators accountable and share that information with our base," said Kay Godwin, co-founder of Georgia Conservatives in Action. Lawmakers don't do what you expect--they do what you inspect. Knowledge is power and with that knowledge we can change things," Godwin added.
The innovative site includes information on how Georgia candidates stand on five key issues: the sanctity of life, family and marriage, fiscal responsibility, constitutional governance and personal and economic policy.
The site lists how candidates "scored" on the issues. Scores are based on their voting record (incumbents), their campaign promises and party platforms.
Georgia Conservatives in Action was joined by Tea Party Patriots of Georgia; Georgia Right to Life and several Christian and social conservative leaders in developing the site.
"Tracker shows exactly what candidates have done--or are promising to do--when in office," said GRTL President Dan Becker, "it helps voters see through all the fog and understand who actually walks the talk."
Becker added: "I don't know of any other site where conservative voters can find the same in-depth candidate information and issue analysis--particularly regarding judicial candidates."
The state-of-the-art site also features: an interactive map with information about key races; candidate biographies; recent blog posts and tips on how voters view the candidates in the election. Each race is represented on the map and "lights up" when political action is taken by a local constituent. A straw poll allows for the strength of a candidate to be gauged prior to a primary. In non-contested races there is a poll to rank an incumbent's representation to date.
"Many Tea Party supporters are new to politics and don't have the time or resources to know a candidate's voting record," said Julianne Thompson, co-organizer of the Atlanta Tea Party.
"Life and Liberty Tracker provides the information they need to see where candidates stand on the issues they care most about, such as the poor economy, high taxes and out-of-control government spending," she added.