Pope-Hollywood Connection Reveals Wuerl's Alleged Rape of Filmmaker as Child -- Leads to Resignation Talks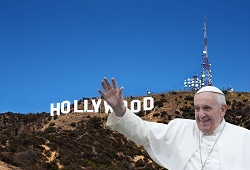 Contact: Father Junipero, 011-39-06-698-83913
VATICAN, Sept. 12, 2018 /
Standard Newswire
/ -- An Academy Award considered filmmaker shared his alleged molestation as a boy in Pittsburgh by Cardinal Wuerl with Pope Francis and others in the church hierarchy, catalyzing a meeting with Wuerl and Pope Francis to discuss Wuerl's resignation, according to inside sources both in the Vatican and in Hollywood.
Bishop Donald Wuerl, the embattled Catholic leader under fire after a PA report detailed 300 pedophile priests molesting over 1,000 children, may have his aggressive PR effort to contain calls for his resignation exploded with the bombshell allegations, the proverbial straw that may break the Cardinal's back.
The filmmaker, Richard Rossi, is a favorite of Pope Francis, who praised his last film, a biopic on baseball icon Roberto Clemente entitled "Baseball's Last Hero." The film sparked a movement to canonize Clemente as a saint.
Rossi finished editing today the first cut of "Canaan Land," a new feature dramatic film he wrote and directed about a man who struggles to get his faith back at Christmas time. He lost his faith because of a priest who molested him in Pittsburgh as a boy in the late sixties. Sources close to the film allege the director based his script on the events.
Rossi has not commented publicly and has been treated for PTSD from the alleged rape, according to Jeff E., a creative collaborator with Rossi who preferred to keep his last name anonymous due to threats if the information is revealed.
"Richard is not doing interviews at this time or discussing this," Linda Rivas, a production assistant said. "He isn't interested in doing interviews. He isn't interested in suing the church."
"Richard is expressing the trauma of his past abuse through his creativity of his 'Canaan Land' film which is therapeutic for him," a therapist close to the director said, who chose to remain anonymous. "I can't say more because it would be a breech of professional boundaries and ethics."
The cast of the film "Canaan Land: A Search for A Lost Faith" features a half-dozen celebrities, including Rebecca Holden, Cindy Williams, Sally Kirkland, and others. The project and has been funded by donations, many from those who seek to stop abuse by religious leaders and have encouraged Rossi to finish the film. Mr. Rossi has featured other victims of abuse from SNAP, (Survivors Network of Those Abused By Priests) on his podcast.
The GoFundMe for the film is
www.gofundme.com/canaanland